Featured Project
Unveiled September, 2016
Commissioned by the Downtown Norfolk Council.
Seep NFK, a 90 foot-long pink neon sculpture, drips slowly down the brick façade of this historic warehouse at 801 Granby in Norfolk's N.E.O.N. District. Referencing the interplay of liquid and land in this city, the work is both a sculpture and sign. Seep NFK is by turns seductive and repulsive, attracting you with its otherworldly pinkness, but viscerally unnerving you with saccharine light. The sticky-sweet glow of the neon is delightful and decadent; it capriciously tricks your senses. The shape of the work–an oozing curtain for a crumbling urban stage–was developed through a meticulous editing process in which the artist combined and reordered the shapes of real spills and seepages, tidal floods, and the land and seascape of the Hampton Roads region. The sculpture's sinuous line–garish yet sexy, controlled yet chaotic–droops like a drunken city skyline falling into the sea.
And yet, the piece remains hopeful. Here, where water and land meet at the easternmost edge of the United States, where the sea and the city transgress their boundaries in downtown Norfolk, Seep NFK reminds you that history has been (and the future will be) built upon this place of tides, ports, jetties, and piers. Like Norfolk, the sculpture is a liquid and a solid, light and form, a living body and a ghost.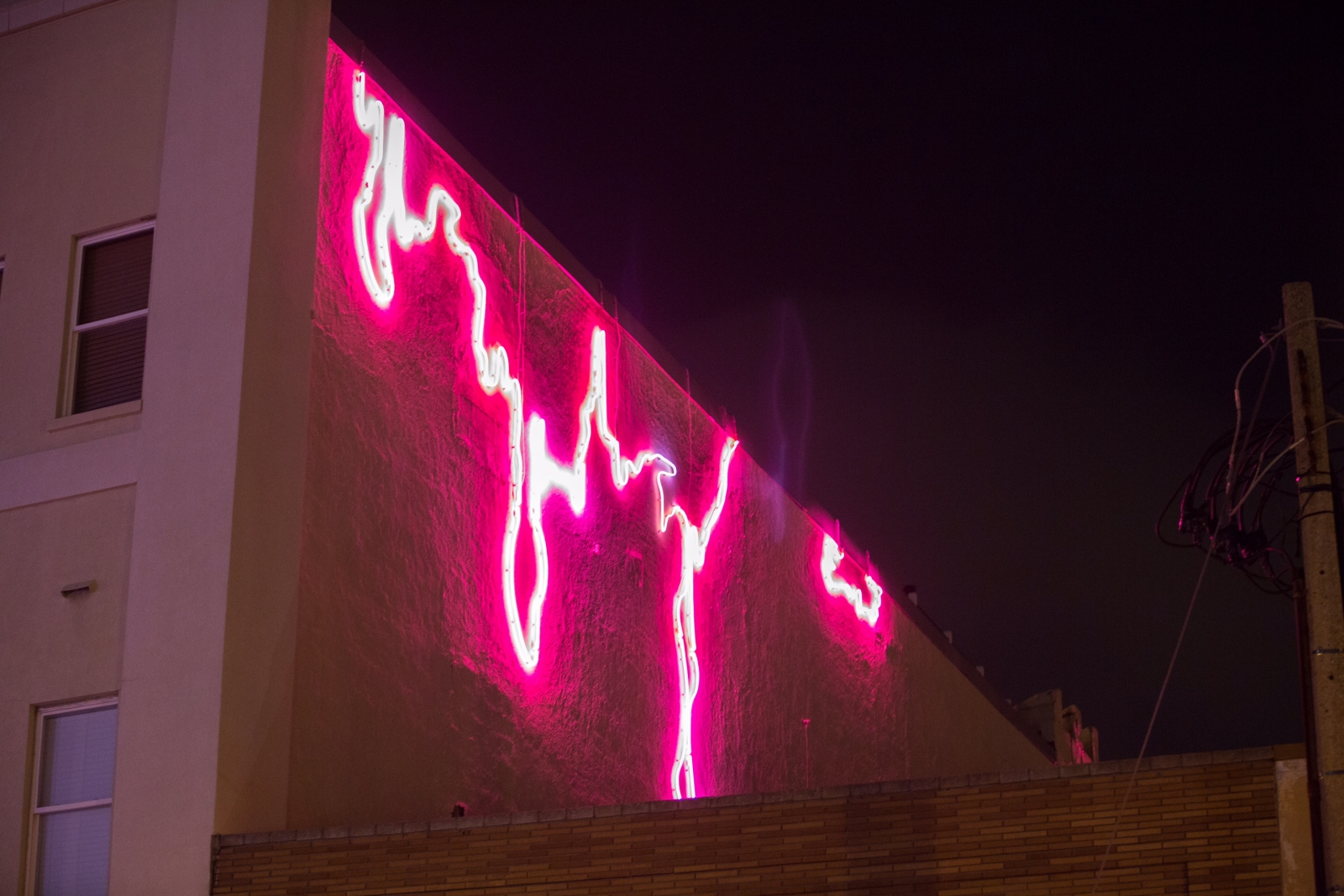 Seep NFK was produced with funding and in-kind support from: Downtown Norfolk Council, Business Consortium for Arts Support, Work|Release, Riehl Deal Neon Co., Over the Edge Inc., Neon Shop Fishtail, and the Association of 801 Granby Street.
Photographs by William Clarke.
Special thanks to Bryan Riehl, George Gabris, Careyann Weinberg, Charles Rasputin, Andrew Thompson, Quyên Lê, and Rachel McCall.