Featured Artwork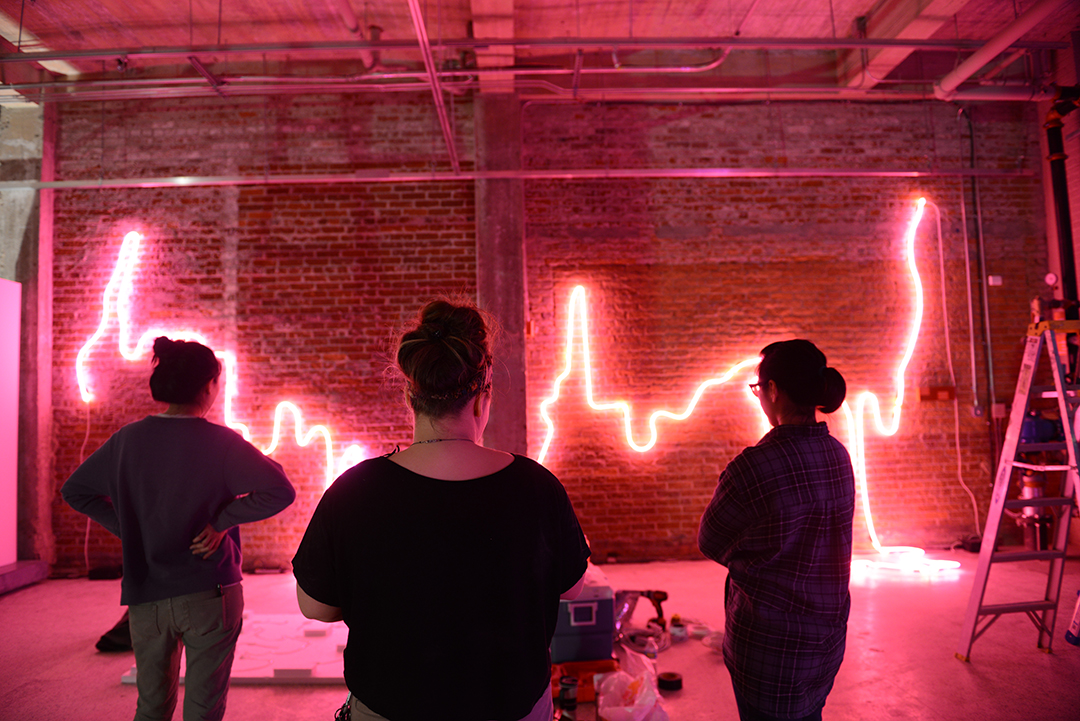 A heartfelt thank you to everyone who helped install Seep at Work/Release in Norfolk, Virginia! You all made this project possible!
AGLOW Organizers: Suzanne Peck, curator; Careyann Weinberg & Charlie Rasputin of AlchemyNFK; and Brother Rutter & Jesse Scaccia, jurors.
Install Strike Team: Quyen, Kelsey, Jessie, Hillary, and Gail
For AGLOW the inaugural exhibition in the rebranded N.E.O.N. District in downtown Norfolk, opening Friday, April 3, 2015, I installed Seep a 24 foot long neon scultpture that hangs at the entrance to the Rutter Family Foundation's new Work/Release space in the iconic 1918 Texaco building. Seep utilizes the rawness of the cavernous space to play with visitors' eyes, bodies and brains. Dripping slowly down the brick wall and puddling on the concrete floor, the work is both a sculpture and sign. The shape of the work – an oozing curtain for a crumbling urban stage – was developed through a meticulous editing process combining and reordering the shapes of real spills and seepages. Here, where water and land meet at the easternmost edge of the United States, both the liquid and the land transgress their boundaries; the sculpture is simultaneously molten and solid, light and form, a living body and a ghost.